by Johnathan Storlie, PhD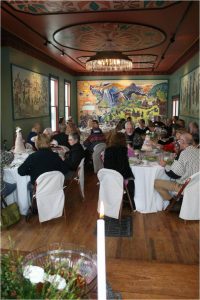 Exciting Times
It has never been easier or more exciting to investigate your roots to find your connection with your ancestors. We at the Giants of the Earth Heritage Center in Spring Grove are doing just that. We are collaboratively taking advantage of the latest computer and genetic technology to find not only our ancestors, but also all of our cousins–whether they be in Spring Grove, in North Dakota, Norway, or anywhere. We are finding that you don't need to be a celebrity to find fascinating people in your ancestry. We have a database of well over 50,000 Sprancestors and access to millions more names and literally billions of records. Our database will allow us to preserve facts, stories, and photographs and link them to everyone associated with them, so that you can have instant access to them.
You thought history was boring? We are making a personal history for you and your descendants that will continue to grow through the generations. Giants of the Earth Heritage Center is making family connections you will appreciate. Maybe you will use those connections to plan a trip to Europe to visit the farms (or castles) your ancestors lived on and meet your European cousins. Or, perhaps you will want to throw a family reunion and invite all of your relatives, even those back in Europe. What else will you find when you get involved? You will find that you have more family than you ever imagined.
Join us as we find our lost sheep and build strong family connections within our community. Join us in welcoming visitors who want to learn about the experiences of our town and become part of our community in some way. Above, you will find pull-down links to various topics (Note that the title of each pull-down menu is also clickable). At the very top is also a blog section where members can share ideas, family mission statements, recipes, event information, or whatever. We will assign additional categories as they evolve based upon your interests.
Poised for Giant Growth
High-throughput genetic testing is changing everything about what we expected could be accomplished. Our genetic genealogy testing will inform you about your ancestry, no matter where your ancestors came from. Giants/trueheritage.org is anticipating giant growth in the future as we intend to serve as the ideal inclusive umbrella organization for all pioneer ethnic fraternal organizations in America-whether they be Sons of Norway, or a German, an Irish, African-Americans, or any other alternative ethnic fraternal organization. Giants of the Earth Heritage Center realizes the importance of passing down core pioneer principles that will empower our children. If we draw the line too rigidly and say this organization is only for Norwegian-Americans, or Irish-Americans, or German-Americans, we will be preaching to an ever smaller audience as America's ethnicities continue to intermarry. If we are flexible, Giants can poise itself to serve as the umbrella organizations that can bring people together with common interests and give a greater number of Americans a sense of identity, purpose, family, community, small-town belongingness, and big-city opportunities. Most of us are a mixture of many different nationalities. Although we don't really feel like a single nationality we still wish to impart to our children the key pioneer principles, including self-reliance, honor and decency. That is our long term goal.
Join in on the Fun
In the short term, please join in on the fun with your neighbors as we investigate, preserve, and pass along the very special heritage of Norwegian Ridge and surrounding areas (Houston, Fillmore, Winneshiek, Allamakee) in which YOU and YOUR FAMILY are an essential part!  Continued under Resurrecting Multigenerational Consciousness