Giants of the Earth Heritage Center has been undergoing a major renovation in large part to make our building accessible. We hope you will stop in to see our progress, visit Larsen Tomlinson Immigrant Hall, explore our museum exhibits, gardens, and Kinneberg Gift Shop and learn more about our upcoming programs and events. 
Giants has a newly constructed video/audio recording space called Preservation Studio where we welcome and encourage our friends and neighbors to tape their oral histories to share with their families and community.

We have in-person and online programs to assist our members' genealogical and ancestral investigations. We can help anyone—anywhere in the world using desktop sharing and web conferencing software.
Regular Business hours
Monday-Saturday — 10:00 AM - 5:00 PM Sunday — Closed
Self Guided Tours
• General admission, $7
• senior/student rate, $5
• family, $20
163 W Main St, Spring Grove, MN 55974
Giants of the Earth Heritage Center is conveniently located on Main Street between Spring Grove Cinema and Doc's Blue Moose Restaurant.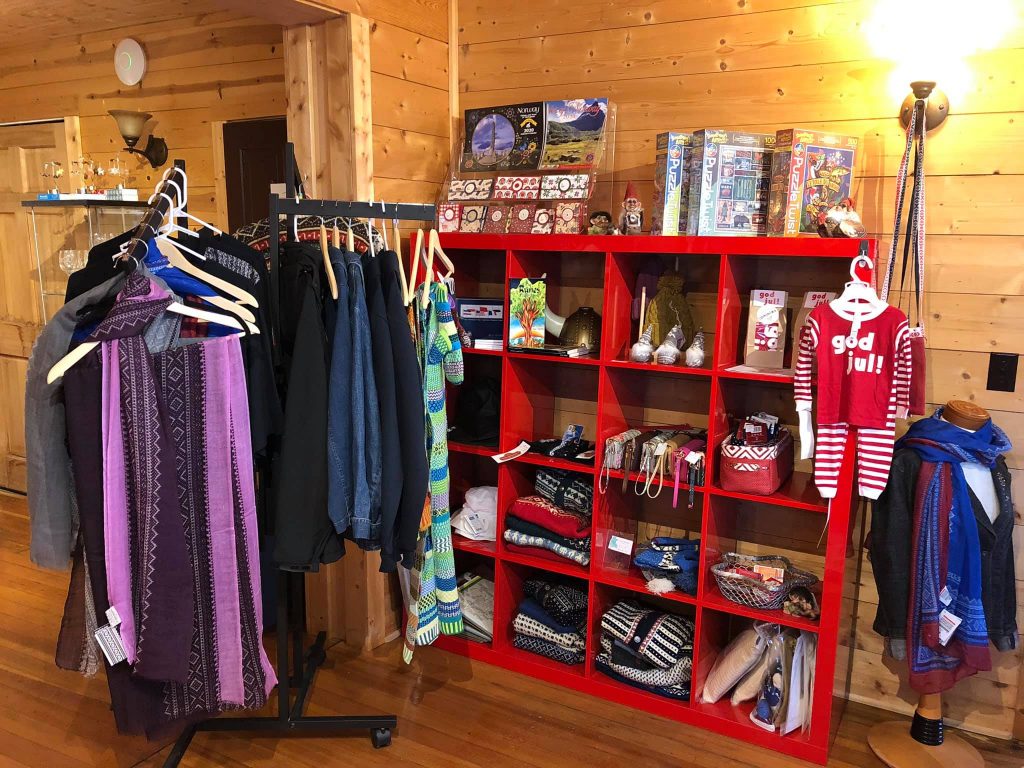 The Heritage Center's Kinneberg Gift Shop is a must-see. Our gift shop's culinary section has everything from wooden butter knives to a lefse grill. Books and stationery, sweets, apparel, collectibles, presents, jewelry, and Nordic; home, kitchen, and tableware are all available for purchase. We also have a unique range of Norwegian sweaters that have been lovingly used and cherished.
From Ballard House to Giants of the Earth Heritage Center. Located in Spring Grove, Minnesota's first Norwegian settlement, the Ballard House opened in September 1893 under the name Spring Grove House. It operated as a hotel until the 1970s. The Ballard House stood empty for about ten years until it was acquired and restored by Spring Grove Area Past, Present, and Future. From the 1980s until 2010, it was an antique shop. Giants of the Earth acquired the Ballard House in January 2010 and began its restoration and renovation efforts in September 2010. The murals in Immigrant Hall were created by honored Norwegian artist Sigmund Årseth in October 2010.
1874
Spring Grove Township
2010
Giants of the Earth Heritage Center
2021
Giants of the Earth Heritage Center
Larsen Tomlinson Immigrant Hall
Giants of the Earth Heritage Center's Immigrant Hall is an open, spacious room with exquisite murals painted by renowned Norwegian artist Sigmund Årseth. It features one of the original chandeliers from Trinity Lutheran Church and showcases hand-stenciling throughout by Sallie DeReus. The room has French doors which lead to the courtyard, two-tiered deck, and garden areas. Beneath each of the east and west wall murals are 'Honored Immigrants' – the names of area ancestors, hand-painted in gold. Immigrant Hall is used for most of our Fine and Folk Art classes and community events. It is a wonderful space for Hootenannies and has been used to host dances. Many amenities are available for events, gatherings, and galas, including large round tables and tableware. 
Daily, visitors to our center use this room as a gathering place. This space is also home to periodically changing exhibits.
Larsen Tomlinson Immigrant Hall
Giants of the Earth Heritage Center
The area around the Heritage Center has beautiful gardens that draw in passers-by. A tall locally-made arched gateway leads to a meandering pathway through the gardens to the back courtyard.  In addition, there will be benches to rest and reflect. The back courtyard has a two-tiered seating area surrounded by beautiful murals and is accessible through the French doors leading out of Larsen Tomlinson Immigrant Hall. There is a life-sized bronze of Sigmund Årseth in the garden.
Nisse Home
A nisse home in the Giants Courtyard!
Giants has a new, soundproof audio and video recording space called Preservation Studio on the lowest level of the Heritage Center that is accessible via the Lee and Louise Sundet elevator. Our producers and directors conduct in-depth interviews with members and guests about Spring Grove life, events, and stories. Giants has high-quality video/audio, lighting, and editing equipment.
Bill Fried, a board member with years of experience teaching students acting and filmmaking skills, frequently manages Giant's Oral History projects. Giants' Spring Grove Oral Histories, promotional videos, and event and program videos are on YouTube and Facebook and occasionally screened at the Spring Grove Cinema or other locations.
Oral Histories are an invaluable part of Giants' mission. The memories of some of our older residents and Spring Grove alumni are key to understanding how this beautiful town has progressed and continues to be so vibrant. We thoroughly enjoy hearing and preserving these stories for future generations.
Help Us make giants a beautiful gathering space
Today, your gift to the Capital Campaign will help Giants of the Earth Heritage Center continue its journey to build a beautiful, accessible, historic gathering place for our community. A place we can share experiences and knowledge, have fun and celebrate, where authors, musicians, scientists, and artists, can share their work and experiences and inspire our community.